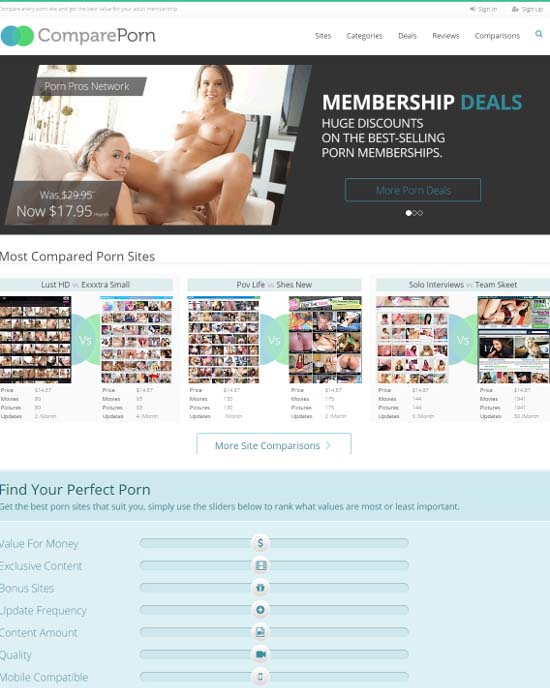 While on my daily read of Slutty Girl Problems there was a post about a new site Compare Porn that caught my attention… Now I know there are sites to compare insurance and flights are common nowadays, but I had not come across a site where you can compare porn sites!
This site seems to contain data on almost all the well known porn sites and lets you select up to 5 sites to do a side by side comparison. You can see which one comes out on top, with quality, video numbers, update frequency, bonus sites and loads of other factors being crunched to give you the final verdict on which is the best porn site or the best value.
So I tested it out by comparing Porn Pros, Reality Kings, Team Skeet and Brazzers, which in my opinion are four of the best pay sites around, and found that Reality Kings came out on top, which seems pretty accurate when you take a look at all the facts.
Also for those looking for a quick search, on the home page they have a "Find Your Perfect Porn" tool that will help you filter and order all their indexed sites by specifying what things are most important to you.
The site also has a discount page where you will find discount membership offers to loads of popular sites, and also a Review area that has in depth and accurate Porn reviews.
I thought Compare Porn was great and I'll be bookmarking it for the future. I'd also recommend it to those looking to get a porn site membership any time soon.