What's in a name?
Well, when you're America's favorite NSFW Cosplay porn model Amy Fantasy- pretty much everything. Amy Fantasy, the aptly named porn princess of Puerto Rican descent, is more than aware of the appeal of cosplay. She has been selling fantasy to enthusiasts across the globe. Amy is far more than just your standard porn princess. One glance at @AmyFantasy Instagram feed showcases not only her natural talent for cosplay, but also a serious body and lust for life.
Her smile and brilliant ahegao look (read: Japanese O-face) are more than enough to get our poke-balls tingling. But, watching this star lick the suckers off of a tentacle on a video posted to her profile on Piggybankgirls.com, brings us to our knees. Amy Fantasy takes her influence from a range of our favorites: Anime, Manga, cartoons of yesteryear, and even video games. Don't tell me that after 8 hours of straight game play, you haven't given Final Fantasy X player Rikku a sneaky second glance. There's something about the futuristic sex appeal of a perfectly drawn video game character that draws more than just innocent attention.
Amy Fantasy: Keeping Portland Weird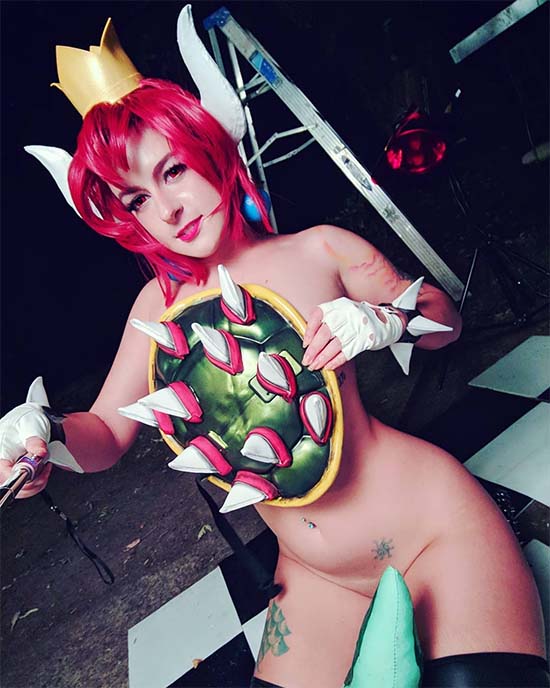 In the city that prides itself on "keeping it weird" Amy Fantasy thrives. Portland, Oregon, USA is known for a lot of different, and fairly random things. One of which is their thriving cosplay scene. Mix that with the city that has the highest number of strip clubs per capita, and you've got yourself a recipe for deviant nerd paradise. Now a Portlandian, Amy can dive into her (and your) deepest cosplay fantasies without fear. Her perfection of the genre proves it.
Cosplay popularity has skyrocketed in the US, and as with just about every trend under the sun, porn has snapped it up. Bringing it to completely new heights, like gender bending our favorite Super Mario characters. Turning former innocents like Boo and the Chain Chomp into busty beauties. We don't know about you, but we're actually pretty stoked to see a sexy King Koopa mud wrestle a scantily clad Toadstool.
Amy Fantasy: Anime Extraordinaire
Anime has been slowly infiltrating the mundane American animation since the 1960's, through influence in cartoon like She-Ra (see above) and SpeedRacer. But with the advent of the internet, anime has seriously taken off in the last few decades. Anime culture has leaked into everything, from apps (Pokémon Go! Anyone?), to decor (why, hello, kitty), video games, and quite possibly the most notable: Porn.
Amy Fantasy boldly takes anime cosplay to new, and incredibly hot, heights. In her Instagram feed, this buxom nerd girl brings the wide-eyed world of anime into stark (naked) focus. If that's not enough, Amy can also be found throughout the internet in steamy videos and naughty twitter feeds. Even hosting a Patreon page should you want insight into how her elaborate stumps are made.
Anime in porn is definitely not a new concept. In the 1980's, Japan was shackled with strict obscenity laws, disallowing any obvious depiction of sexual acts on film. So in true Japanese style, creators thought up brilliant new concepts with how to get around these strict laws, while still being able to deliver tantalizing results. Outside of readily recognizable genres like bukkake, the Japanese porn dream teams came up with Manga and Anime geared pornography: referred to in the US as Hentai.
Amy Fantasy: Bringing Hentai to Life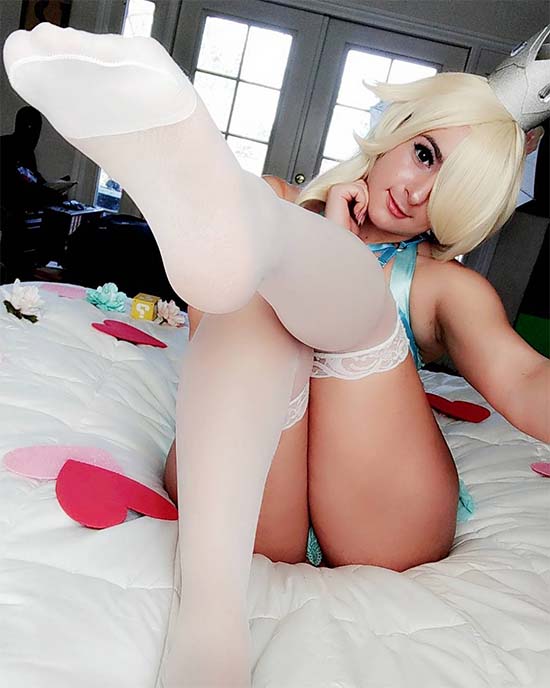 Hentai literally means "perverse". In Japan, hentai refers to any bizarre or fetish fueled sexual act. However, as the term travelled overseas to its American cousins, the word became associated solely with manga and anime styled pornography. While hentai is generally seen in hand drawn movies (anime), or comics (manga), the horn dogs behind much of the filthiest depths of the internet cried for more. Hentai can now refer to either of the hand drawn genres or to live action cosplay porn, styled in kind. In fact, they have even created anime "visual novels", video games that are devoted entirely to erotic manga stories.
Amy Fantasy brings live action Hentai to life. In both the Japanese and American forms. Amy effortlessly marries the concepts of an anime styled appearance with steamy BDSM practices. Bringing the fetish back into hentai. Rope bondage, ball gags, and butt plugs playfully coexist with the wild hair styles and innocent wide eyed look that is instantly associated with manga.
East meets west in one perfect, almost celestial being: Amy Fantasy. Who knew that it would take a Puerto Rican- Hungarian, living in Portland, to finally bring us the porn of our dreams.