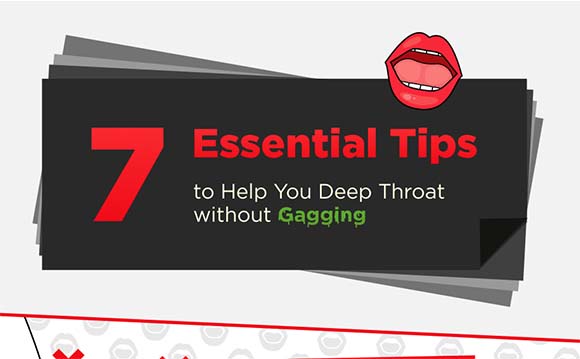 Have you ever wondered how your favorite porn stars, manage to swallow down every inch of a guy's cock?
Wouldn't you love your wife, partner or girlfriend to give you this ultimate mind-blowing oral pleasure? Maybe you have always dreamed about fucking her face balls deep?
Well it all just takes practice. Thanks to face fucking porn extreme deepthroat pictures & videos for sharing this useful infographic. Use their valuable 7 step guide to master this taboo sex act.
First here are 6 quick tips to get you started:

1) Don't Suck!
Deep-throating is not like giving a regular blowjob.
You need to relax your jaw muscles and open your mouth wide. Attempting to suck will leave you sore & struggling to catch your breath.
2) The Gag Reflex
Your immediate reaction to putting anything down the back of your throat is to gag hard.
Overcoming this reflex is key to ensuring that you can take a cock down your throat. However it takes practice. We recommend you train with a clean toothbrush handle, 2-3 times a week for up to 3 weeks.
Take it slow and insert the handle into the back of your throat until you have the urge to gag. Stop! Bring it forward slightly and hold for 30 seconds. You will get deeper over time.
See the infographic below for more information.
3) Find the Right Position
This can be key in the beginning. You want a straight a line as possible between your mouth and your throat.
Laying on your back with your head tilting over the edge of the bed is a good starting point. This position is known as the throat swab position.
4) Breathing
You'll need to learn to take quick breaths as you slide your partner's cock in and out.
Breathing through the nose may not be possible if he is well endowed.
However you can use your tongue to create an air gap along the underside of his penis. Ultimately you must stop and take a big gulp of air if you cannot breathe.
5) Get Messy
With a throat full of cock you will produce plenty of saliva which is good news; this will act as a useful lubricant.
6) Face Fucking & Gagging
The act of thrusting the penis into the back of somebody's throat is nothing new.
In fact the ancient Romans called it irrumatio. This is an advanced technique and something you should talk to your partner about before attempting. It requires that both participants trust each other.
Take it slow and ensure you can deep throat well before you even consider it.
The Infographic
So there you have some quick tips to get you going.
However take a look below for a graphical representation of how to master the ultimate oral sex act.
Importantly go slow in the beginning and remember this should be fun for both participants!